Paul Weiss, PhD 
President
The Oasis Institute
St. Louis Oasis is growing
At St. Louis Oasis, we believe that opportunities to grow don't end just because we get older. The Oasis mission to promote healthy aging through lifelong learning, active lifestyles and volunteer engagement got its start in St. Louis in 1982.
We're proud that more than 35 years later, Oasis programs continue to enrich the lives of older adults nationwide and locally. Today, St. Louis remains the home of our national office and a community impacted by Oasis programs that empower and inspire adults to rethink the possibilities for themselves as they age.
In 2018, St. Louis Oasis has impacted the community in powerful ways, reaching more than 6,715 active participants with over 5,000 classes.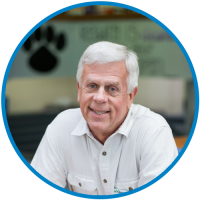 Through Oasis Intergenerational Tutoring, more than 2,000 older adults served as tutors, mentors and friends to elementary school children in local 22 school districts. Our volunteers dedicated more than 156,000 hours of service to and through Oasis.
We anticipate our impact to broaden even further, thanks to exciting expansion efforts in 2019. With support from our stakeholders, partners and friends, St. Louis Oasis has established seven new sites, allowing us to reach even more older adults in new communities with a demonstrated need for our programs.
It's an exciting time to be growing with St. Louis Oasis!
Renewing Purpose Through Tutoring
His new friends call him "Mr. B." And Dean Barnes is just fine with that. When he decided to volunteer with the Oasis Intergenerational Tutoring program, Dean knew he would be helping students in need.
"The relationship that I've been able to build with these kids has been really rewarding," he says.
Dean is among 2,000 Oasis tutors in the St. Louis area, and joins 4,000 older adults nationwide serving in a powerful one-on-one way as tutors, mentors and friends to children in grades K-3.
Staying Connected with New Technology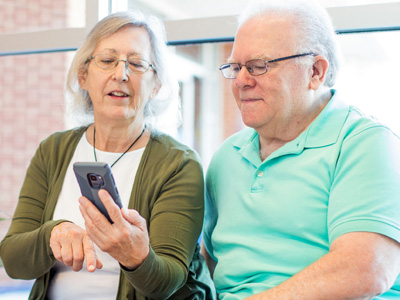 Marge Williams is comfortable navigating iPhones, tablets, personal computers and just about any other new tech device that comes along, but she knows not everyone brings that level of confidence to learning technology. It is why Marge is a great fit as a volunteer instructor with Oasis Connections, a national digital literacy program designed to equip older adults with the skills they need to stay connected.
"I'm impressed at the determination of the students who come to my classes," she says. "They want to stay active and keep learning."
Creating New paths Through Lifelong Learning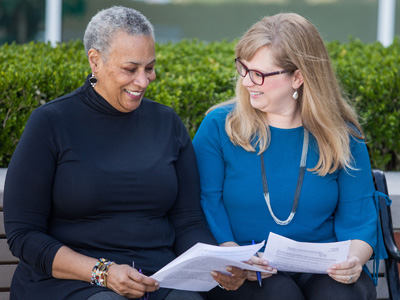 When she enrolled in a creative writing skills class at St. Louis Oasis, Vivian Gibson could not foresee just how far down the path toward publication she'd be in just a few years' time.
"I've had two stories published and am currently working a memoir," she says.
Humanities classes covering a variety of topics often turn newcomers into Oasis "regulars," just like Vivian, who builds her daily schedule around classes that she counts on for continued learning and something else valuable: new friends!
St. Louis Oasis 2018 Annual Report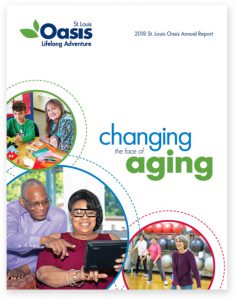 Download full 2018 Annual Report
PDF version contains the full stories and more.
St. Louis Oasis Local Impact in 2018