Grace Cheng Braun
President & CEO
WISE & Healthy Aging
Los Angeles Oasis
Los Angeles Oasis continues to grow!
In 2018, we increased our course offerings, both at our Westside and Baldwin Hills locations. With the support of our Los Angeles Oasis Advisory Council, and feedback from our participants, we also expanded our collaborations with healthcare providers and other social services agencies, bringing a greater range of programming. We introduced a Distinguished Speaker Series that showcased experts and talented individuals who provided not only in-depth knowledge on a variety of topics from health to current events to local interest, but also encouragement and inspiration to those who attended. Our team was intentional about creating more opportunities for socializing among our participants, with specially-themed gatherings and excursions.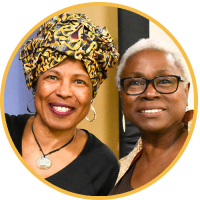 WISE & Healthy Aging is delighted to collaborate with The Oasis Institute and the Oasis national center network. Our partnership with Oasis provides older adults in Los Angeles with outstanding lifelong learning programs, access to national healthy aging initiatives and opportunities for civic engagement, including Oasis Intergenerational Tutoring. This award-winning volunteer program pairs older adults with elementary school children for one-on-one literacy-focused tutoring and mentorship.
We are proud of our diversity and grateful to the many volunteers who support our work. We are also thankful to our donors and partners who share in our commitment to encourage older adults to continue learning, growing and finding meaningful ways to engage in our community.
Staying on The Move with Los Angeles Oasis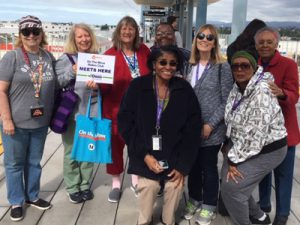 Regina Bryant had never used the public transit system in Los Angeles before, but after participating in the Metro On-the-Move Riders Club, she's confident enough to show others the ropes.
"It's just a matter of getting out there and trying it. The Riders Club was a great opportunity to explore my own city," says Regina.
Teaching Fitness for Life with a Variety of Options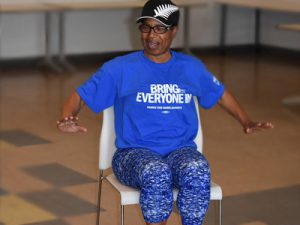 "I've seen exercise completely change older adults' quality of life and their sense of security as they get stronger and more flexible," says Antonia Routt
Antonia practices what she teaches. Participants can choose from a variety of fitness classes.
Once a Coach, Always a Coach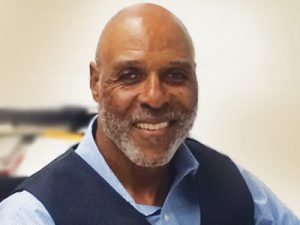 After a lifetime of teaching and coaching youth, Reggie Morris has shifted his focus to older adults, a group he finds just as exciting.
There's something in us that wants to learn and be inspired no matter how old we are," says Reggie.
Los Angeles 2018 Annual Report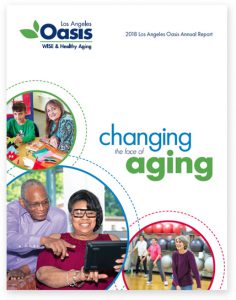 Download full 2018 Annual Report
PDF version contains the full stories and more.