Cynthia Woods
Executive Director
Upstate Oasis
Upstate Oasis is growing!
In 2018, we added 548 new participants. There are many reasons that Oasis is evolving from the best-kept secret in Syracuse, NY, to the go-to resource for older adults who are looking for inspiration and exploration.
Our programs are at the heart of our success. We offered 482 classes in 2018 and the most classes ever in one trimester. Our nationally-recognized State of the Union series continued to draw enthusiastic crowds, and we were excited to launch other promising new programs, including Tai Chi for Arthritis, beginning and intermediate tap dancing, Sound Healing with Gong Meditation, After World War: A New World and Egyptian History.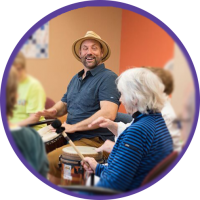 We have also become more accessible. Collaborating with community partners to offer our programs in more locations means that nearly 12,000 people who look to Oasis for lifelong learning and personal growth simply have more paths to find us.
The Oasis Intergenerational Tutoring program has grown by 150 percent in 2018. We have added several new schools in the Syracuse City School District, and now have Oasis tutors working one-on-one with students in other area districts as well, including Liverpool, Central Square and Marcellus.
All of these gains have inspired more donors than ever who share our belief that getting older represents opportunities for growth and impact. I'm proud of this growth and so thankful for those who support Upstate Oasis in keeping people active, engaged and aging well.
Staying on Your Feet with Tai Chi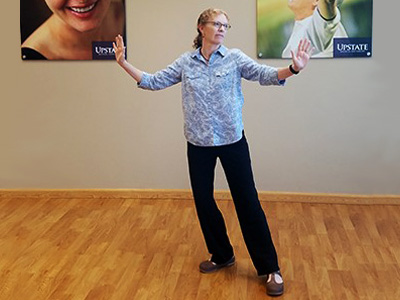 Sandra Gowing rides a bike, plays tennis and is steadier on her feet these days. She credits taking a Tai Chi for Arthritis class at Upstate Oasis for her newfound confidence.
"I feel stronger and more in control of my body, so I'm no longer afraid of falling," says Sandra.
Tai Chi for Arthritis helps improve balance both mentally and physically, resulting in improved vitality, posture, even immunity.
Working with Children One-on-One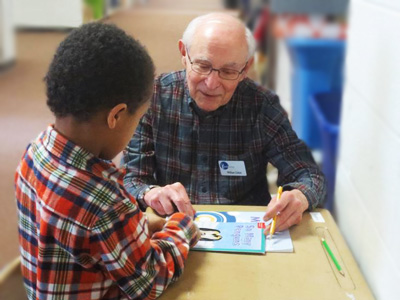 After four years as an Oasis tutor, William Cohen doesn't mind the new name his young friends have for him: "Mr. Bill." He joins more than 4,000 older adults nationwide serving as tutors, mentors and friends through the Oasis Intergenerational Tutoring program.
"After I retired, I was looking for something to do that was meaningful. It's nice to see when a child makes progress, and I've reached a point where I really look forward to my tutoring days."
Encouraging a Love of Learning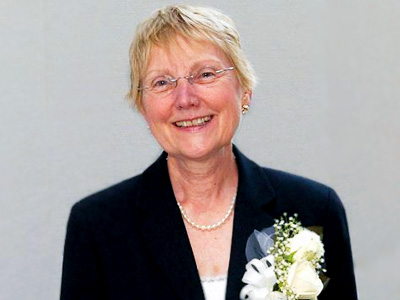 Elinor Spring-Mills loves the kind of learning made possible at Upstate Oasis so much that she took a generous step to ensure that more people could take part.
"I have explored new subjects, refreshed others and made many interesting new friends," she says, explaining why she created a tuition assistance fund.
This year, five local participants received scholarships from the fund, keeping a love of learning alive!
Upstate Oasis 2018 Annual Report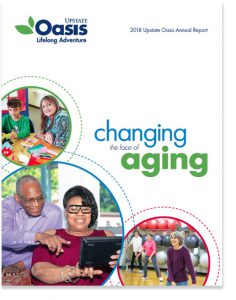 Download full 2018 Annual Report
PDF version contains the full stories and more.